We may earn money or products from the companies mentioned in this post.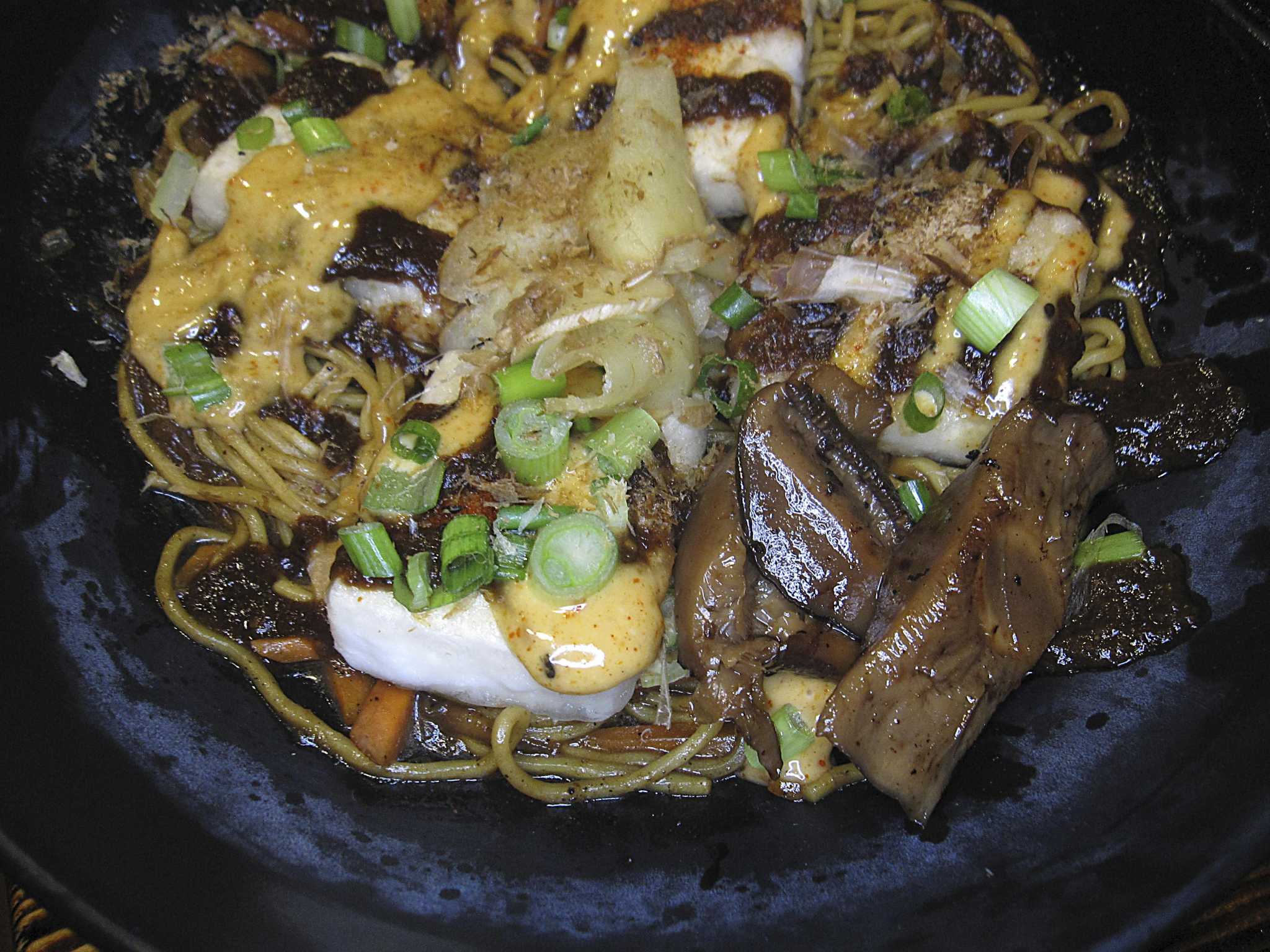 Note: As of May 6, this list will no longer be updated.
San Antonio eateries offering curbside pickup
As restaurants take a hit from customers self isolating because of the COVID-19 pandemic instead of dining out, they've had to get creative with curbside pickup options and delivery.
Below is a list of many of the restaurants and breweries throughout the San Antonio area offering curbside and/or meal delivery services. Please call or go online to check on the status of restaurants for availability. We will keep updating this list daily at mySA.com/food.
Note: The list does not include restaurants that utilize meal delivery services like Grubhub, Postmates, Favor, UberEats and other third-party options. Stores doing Curbside
Delivery
Apple Spice Catering Co.: Full menu and free delivery with the order of five menu items or more. 859 Isom Road, 210-955-9800, applespice.com
Blüm Coffee and Tea: Full menu, available 8 a.m.-8 p.m. daily, 210-996-4044, order online, blumcoffeeandtea.com
Longhorn steak house.
Cakes by Felicia: Limited menu available, including buy a dozen sweets and a dozen sweets are donated to essential workers. Delivery noon-7 p.m. Wednesday-Saturday. 210-383-6046, order online, cakesbyfeliciasa.square.site
Carrabba's Italian Grill: Customers can order online and get food delivered at a 15 percent discount by using the code "Spring 15" when making the order. Multiple locations, carrabbas.com
Dinner at Home (from chef Jason Dady): Three, three-course meals delivered for $120 with a weekly rotating menu. Orders require 24-hour advance notice and can be made at chef@jasondady.com
Don Strange of Texas: Alternating daily menu with meals for four delivered for $49. 210-434-2331, donstrange.com
Marble Slab Creamery at North Star Mall: Limited menu available. Free delivery for orders $50 or more up to a 10-mile radius. Delivery windows from 3-5 p.m. and 6-8 p.m., 7400 San Pedro Ave., 210-319-3365, marbleslabsntx.square.site
South Texas Heritage Pork: Free delivery of pasture-raised pork products for locations inside Loop 410. 830-534-7993, southtexasheritagepork.com
Curbside pickup
225 Urban Smoke: Full menu with 10 percent off all pickup orders. 1015 Rittiman Road Suite 13, 210-444-9956, 225urbansmoketx.com
410 Diner: Full menu available, 11 a.m.-7 p.m. daily. 8315 Broadway, 210-822-6246, 410diner.com
Acadiana Cafe: Limited menu including family meals, available 11 a.m.-8 p.m. daily. 1289 SW Loop 410, 210-674-0019, acadianacafe.com
Al Carbon Pollos Asados: Full menu available at both locations. 13835 Nacogdoches Road, 210-686-9027; 547 Culebra Road, 210-737-7400, Facebook: @alcarbonpollosasados
Alamo BBQ Co.: Full menu available. 511 E. Grayson St., 210-994-8099, Facebook: @alamobbqcompany
Aloha Kitchen: Full menu available 11 a.m-4 p.m. Monday-Saturday, 1151 Harry Wurzbach Road, 210-822-9933, Facebook: @Aloha-Kitchen
Arctic Ape Wild Desserts: Full menu available for take-out. 5221 Walzem Road, Suite 1, 210-257-5949, www.ArcticApeYogurt.com
B Daddy's BBQ: Full menu available. 14436 Bandera Road, Helotes, 210-275-9995, Facebook: @BDaddysBbq
Bakery Lorraine: Limited menu available. Rim: 17503 La Cantera Parkway #108, 210- 862-5582; Medical Center: 7338 Louis Pasteur Drive #201, 210-303-0330, bakerylorraine.com
Bakery Lorraine at the Pearl: Full menu available via the to-go-window at bakery. 306 Pearl Parkway #110, 210-862-5582, bakerylorraine.com
Battalion: Limited menu available 4-9 p.m. Wednesday-Saturday. 604 S. Alamo St., 210-816-0088, battalionsa.com
Big Bob's Burgers: Full menu available. 447 W. Hildebrand Ave., 210-734-2627, bigbobsburgers.com
Bird Bakery: Limited menu available including seasonal decorating kits for cookies and cupcakes, 10 a.m.-6 p.m. Tuesday-Saturday. 5912 Broadway, 210-804-2473, birdbakery.com
Black Laboratory Brewing Co.: Saturday pickup available for 32-ounce crowler beer, 12-7 p.m. 1602 E. Houston St., Suite 109, blacklaboratorybrewing.com
Blue Star Brewing Co.: Limited to-go menu available 11:30 a.m.-9 p.m. daily. 1414 S Alamo St., Suite 105, bluestarbrewing.com , 210-212-5506
Blue Star Ice House on Main: Kiosk on Main Plaza is open, menu includes craft beer, brisket nachos, tacos and so much more, 11 a.m-8 p.m. Tuesday-Sunday. 115 N. Main Ave., 210-212-5506, mainplaza.org
Botika at the Pearl: Limited menu, includes $15 lunch and $30 dinner packages as well as beer and wine options. 303 Pearl Parkway #111. botikapearl.com , 210-670-7684.
Braza Brava Pizzeria Napoletana: Full menu available. 7959 Broadway, Suite 300, 210-320-2100, brazabravapizzeria.com
Boiler House Texas Grill & Wine Garden: Limited menu available and family-style meals, 50 percent off all wine. Pickup available at intersection of Pearl Parkway and Karnes Street., 210-354-4644, boilerhousesa.com
Bubba Gump Shrimp Co.: Limited menu available, 406 Navarro St., 210-224-4867, bubbagump.com
Bud's Southern Style Rotisserie: Full menu available. Pickup is at the corner of Karnes and Mueller streets, 210-600-3291, budsrotisserie.com
Bushwood BBQ: Full menu available. 13800 Jones Maltsberger Road, 210-427-3645, Facebook: @BushwoodBBQ
Cafe Vida: Full menu available. 2711 Treble Creek: open 8 a.m. to 3 p.m. Monday-Saturday, 9 a.m.-2 p.m. Sunday, 210-265-1449; 19179 Blanco Road Suite 109-1: 10 a.m.-6 p.m. Monday-Saturday ,210-310-3269, cafevidasa.com
Capparelli's On Main: Full menu available. 2524 N. Main Ave., 210-735-5757, capparellisonmain.com
Cappy's Restaurant: Limited menu available. 5011 Broadway, 210-828-9669, cappysrestaurant.com
Chef John's Southwest Cafe: Full menu available. 800 Quintana Road, 210-801-0231, Facebook: @Southtownonthegrill
Claudias Mexican Restaurant #2: Full menu available 6 a.m.-10 p.m. daily. 5132 W. Military Drive, 210-272-0020
Clementine: Daily meal option and…